Chase Hall, an artist based in New York, uses the unpredictable medium of coffee to craft his masterful paintings featuring Black men occupied in a range of activities. In contrast to conventional paint, Hall describes coffee as having a mind of its own, explaining the artistic process as intensely physical and the ultimate outcome a continual challenge to predict.
Born and raised in Saint Paul, Minnesota, Chase's artistic journey began during his teenage years while working as a barista at Starbucks. Later, he unearthed the creative and metaphorical potential of coffee as an artistic medium. With its roots in Africa and ties to the transatlantic slave trade, coffee becomes a dominant force symbolically that embodies both the historical and contemporary exploitation of the Black body. When applied to canvas, it also serves as a reflection of Chase's own identity as the biracial child of a white mother and a Black father—an exploration that incites deep contemplation of the intersection between these two realms and their profound significance.
In his first solo exhibition, "The Bathers," hosted at New York's David Kordansky Gallery, Chase delves into the art historical depictions of Black figures in proximity to bodies of water. He grapples with themes of personal identity, self-liberation, and freedom, challenging conventional narratives about where Black people find happiness and define their existence. As Chase eloquently says, his art serves as a means of staking a claim in spaces that transcend conventional boundaries.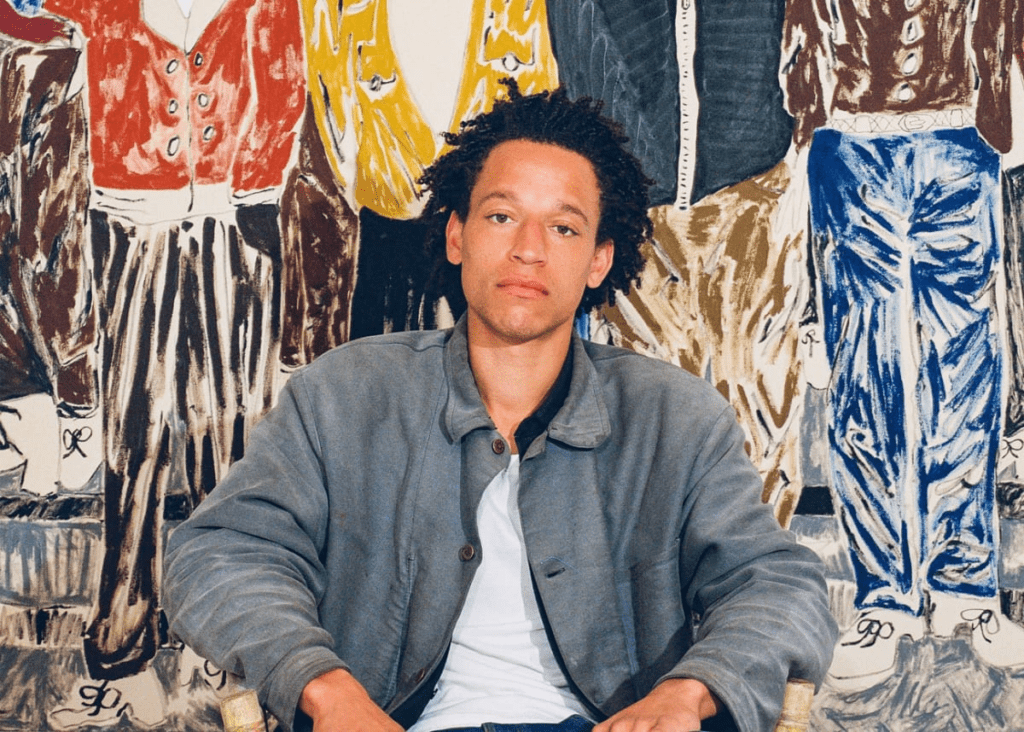 Chase's artist statement reads: "My practice is an exploration of the impossible absolute of biracial identity. Considering W.E.B Dubois theory of double consciousness, I am interested in redefining what visualizing the duality of a mixed-race experience can be in terms that are both personal and cultural. It's a way to attempt to express my internal dialogue of existing in between fixed identities, black and white. Making paintings that are visual embodiments of past histories and present trauma, I aim to confront social and racial realities by creating unsettling moments through which we consider how dynamics of race are foundational to America.
The subjects and the landscapes of my paintings may be familiar, familial or historical. The colorfully, loose and audacious strokes on cotton canvas create representations that are coded in injustice, disinvestment and the resilient fortitude of people who have endured under tight constructions of identity. The cotton canvases remain partially unpainted, giving the impression that the surface is activated with white paint. It's one strategy of engagement that seeks to force the viewer to account for the erasure of black achievement, history and identity under white supremacy. My use of impasto techniques next to tonal washes aim to liberate the paintings from a legacy of American portraiture which doubles as a metaphor for a history defined by perfection and exclusion. The strokes of color contending with a vacuous whiteness takes the shape of protest, in form. I utilize a mosaic style to build the flesh of my figures as a way to articulate racial confusion. On my canvases where whiteness seems to engulf color, rendering the figures and scenes incomplete, the racial absoluteness of both whiteness and blackness are evoked both conceptually and visually."
"Chase Hall: The Bathers" is on display now through October 14th, 2023 at David Kordansky Gallery in New York. For ticket information, visit davidkordanskygallery.com.
---
As an independent magazine with a small team, we rely on the support of our readers to keep JARO's content free and accessible to everyone. Please support our ability to continue delivering the best of the African Diaspora with a donation as little as $1. Thank you!